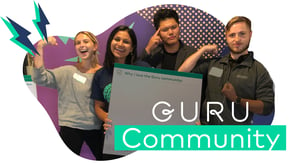 Welcome to the Guru Community! This is a space for you to connect with other Guru pros, ask questions, and exchange ideas freely about all things knowledge management. This community is for all Guru fans, regardless of race, age, ethnicity, sexual orientation, gender identity, or background. We're thrilled you're here...now let's knock out some questions you're likely pondering :)


How do I join the Community?
We're in Slack, where you can join discussions and message other community members anytime. You can request access here if you haven't already.
How do I use Slack?
Once you receive an invite, we suggest you download the Slack desktop app (downloading on iOS or Android isn't a bad idea either) and sign in to stay on top of community discussions
When you sign in, you'll already be included in some helpful channels, such as #announcements and #Guru-Product-Ideas. To check out all the channels, click "Channels" from the left panel
When you're in the Slack community, please update your profile with a photo of yourself, and complete your profile fields to help us better connect and collaborate with one another.
Head into the #introduce-yourself channel and..you guessed it, introduce yourself :) Share your name, where you work, what your role is, one thing you hope to learn, and one fun fact about yourself
To mention others in the community (so your message notifies them), type the "@" character and start typing their name in your message
Use the /guru command (just type in "/") to search for cards in the Guru Community right within Slack
You can use /mute to turn down the volume on channels you're not as interested in, and desktop notifications will bring up things you want to hear about. You can change your notification settings here
Check out the Slack team settings. There's so much you can do to make this Slack team work perfectly for you, and you can find lots of helpful keyboard shortcuts in Slack here
What discussions happen here?
Discussions should be geared toward sharing and learning how you can become more successful using Guru. We encourage conversations about:
Strategies to roll out Guru effectively and build buy-in and adoption
Guru best practices, examples, tips and tricks
Examples of how you're approaching different projects and challenges related to knowledge management and setting your teams up for success
Ways to leverage analytics to measure success and KPIs
Feedback and ideas about the Guru product
Role-specific advice for Sales, CX, Knowledge Management and other enablement pros
Knowledge management-focused events, conferences, webinars, blogs, podcasts and other resources
If I've hit a technical snag using Guru and need some help, is this the place?
You'll have better luck if you go to the Help Center and click "Contact Us" to chat with a Guru support specialist. They're there to help solve your issue.
What should I do if I see an offensive or rude comment?
Please let us know so we can address it right away. Send a direct message to Chris Anderson, Callie Rojewski, or anyone from the Guru team.
What are the rules of this Community? Can you edit or delete my posts?
We take safety and inclusivity seriously in the Guru Community. Although we won't edit your posts, admins can delete them. Our primary policy is to lead with respect, and we reserve the right to delete posts that contain:
Rude or offensive commentary
Nudity or graphic content
Anything that can be interpreted as "trolling"
Anything that can be interpreted as "spammy"
Our Community guidelines are simple, but strict:
Always be supportive and helpful to others
Speak to others the way you'd like them to speak to you
Remember that we all started somewhere
Assume others' best intentions
We reserve the right to ban any members who have repeatedly made posts or comments that we deem offensive, rude, against these guidelines.
We really, really want to hear your input!
We'd love your feedback on how we can make this space a valuable resource for you. If you have any ideas, questions, or requests, don't hesitate to email us at community@getguru.com or direct message Chris Anderson or Callie Rojewski anytime.
But wait...I have more questions. Where do I go?
Go to the Help Center and click "Contact Us" to chat with a Guru support specialist.