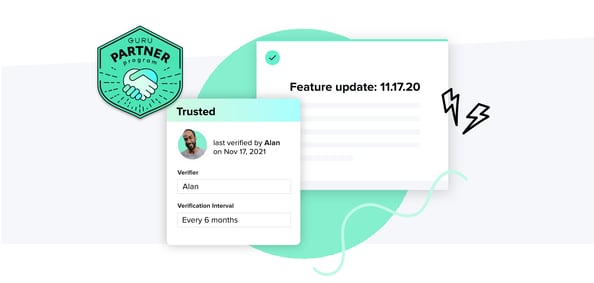 Guru's partner program is designed for consulting firms, SIs, BPOs + MSPs and technology providers to more easily distribute and automate organizational information when and where your customers are already working, in programs like Slack, Microsoft Teams, Salesforce, and Zendesk. See some examples of Guru integrations on our integrations page.
If your customers want to improve employee onboarding, streamline internal communications and provide just-in-time and in-context product enablement, then Guru is here to help!
Become a Services Partner
Align your business with a knowledge management solution to expand your conversations and services engagements through our referral, reseller, or solution provider arrangements!
Benefits of being a Guru Services Partner:
Increase your revenue potential with expanded service practices that generate insanely positive outcomes and proven adoption. Check out our case studies for proof!
Deliver custom knowledge management services and automated workflows with our proven API and supported iPaaS platforms
Elevate your brand by creating more customer advocates. Check out our G2 ratings and reviews to see the customer love ❤️
Partner enablement resources include assets, developer/partner account access, and resources focused on accelerating your growth
Collaborate with a designated Partner Program Manager

Become a Technology Partner
Better together: sure it sounds cliche, but Guru + our tech partners are delivering delightful customer experiences with custom integrations and automated workflows. Come build with us!
Benefits of being a Guru Technology Partner:
Open API and supported iPaaS platforms
GTM collaboration opportunities
Account mapping via Crossbeam
No cost Developer Edition to develop, test, demo, and support your high-value workflows
Promotion via Guru's Integration Page and reference in Guru's Help Center
Partner enablement resources include assets, developer/partner account access, and resources focused on accelerating your growth
Designated Guru Technology Partner Account Manager